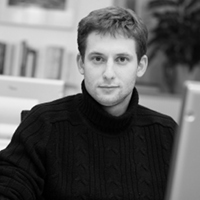 Gilles Bailly
I am currently CNRS researcher at the
ISIR Laboratory
of the Pierre et Marie Curie University (
UPMC
). I was previously CNRS researcher at
Telecom ParisTech
. I received my PhD in Computer Science from the
Univ. of Grenoble
(2005-2009), after which I was a post-doctoral research at
Telecom ParisTech
(2009-2010), Telekom Innovation Laboratories (2011-2012), Max-Planck Institute für Informatics (2012), Cluster of Excellence of multimodal interaction (2013).
My research is in HCI, focused on understanding and improving command selection on traditional GUIs (menus, hotkeys, etc.) and gesture-based interfaces (multi-touch, mid-air gestures). I design novel interaction techniques, build predictive model of performance and develop optimization methods.
Affiliation:
ISIR Laboratory
Université Pierre & Marie Curie
Pyramide T55-65
CC 173 - 4place Jussieu

Last updates (October 2016)
- Yvonne Jansen and me joined the ISIR Laboratory of the Pierre et Marie Curie University (UPMC).
- Honorable mention for TouchToken with R. Morales, C. Appert and E. Pietriga
- 3 full papers accepted at
CHI'16
(
here
)
- keynote speaker at
VISIGRAPP 2016
Main projects:
Lastest Videos: